As I was doing a bit or organizing in my pantry today I thought of Gollum asking Bilbo, "what's it gots in it's pocketses"? Well many a thing can hide in my pantry for unknown lengths of time so I decided to pick a hidden item to do a new recipe with. Some times I like to go to the grocery store just to find something fun to cook, but today it was going to come from the pantry. What I found that I thought needed to come out and play was a tiny bit of whole wheat shell pasta that wouldn't amount to an entree, but could be my lunch special. One item I do have in abundance is fresh oregano since it survived the winter and exploded into new growth in April. I have never had pesto made with oregano, but figured this particular type of oregano would work well in pesto. It has more of a minty taste to it than a pungent flavor typical of fresh oregano. I think it could be Greek Oregano, but it's plant identification marker has long since disappeared. So the lunch special for one was shaping up, Whole Wheat Pasta in Oregano Pesto. I had some pine nuts in the freezer that were still quite fresh, and some farmer's market asparagus in the fridge from yesterday's shopping downtown for the dish. I figured that the asparagus would be a nice touch.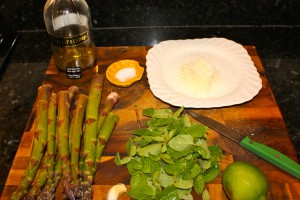 I confess to having pesto on the brain since I read a post from one of my favorite bloggers, Marge Perry's Sweet and Savory Life, this morning that included a pesto recipe. That recipe was quite different in that it used linguine, basil, spinach etc that I did not use. I probably would have done her recipe except my basil is not in production mode yet.
I put this all together in about 25 minutes including boiling the pasta, cleaning the oregano, and food processing the pesto. Not to mention the distraction of making sure Tucker, our 8 week old German Shepard puppy wasn't getting into trouble. I had fresh greens from the garden to serve as a perfect base. I set up for the photo part of the gig and, after shooting the photos sat down to sample my prize. It was quite good, but next time I will put some cilantro in with the oregano for a bit more herbal punch. Maybe even a jalapeno for fun. It's just so much fun to experiment with all the amazing choices we have at our local grocery stores and farmers markets. From Fast and Furious Cook's kitchen I wish you all a wonderful summer of experimenting with something new and fun.
Oregano Pesto
1 cup fresh oregano leaves
1/2 cup grated parmesan
1/2 cup roasted pine nuts
1/3 cup extra virgin olive oil
1-2 fresh garlic cloves minced
1 tablespoon fresh lime juice
1/4 to 1/2 teaspoon salt
Mix parmesan cheese, pine nuts, olive oil, garlic, lime juice, salt and half of the oregano in a food processor. Scrape with spatula and add the rest of the oregano. Mix well, scrape and mix a bit more until all the pine nuts and broken up well.
Serve with your favorite pasta, hot or cold.