I recently bought a copy of the White House Cookbook to replace the one I had back in the 1970's and 80's. This one seems the same except instead that Ida Saxon-McKinley is replaced by an inset photo of Edith Boling-Wilson. The recipes crack me up with the less-than-specific directions, but it still proves useful in searching out ideas for farm fresh foods. Back in the 1880's when it was originally written I suspect all food was either fresh, dried or canned as freezers were not in common use until around 1913, and even then only a few owned such a luxury.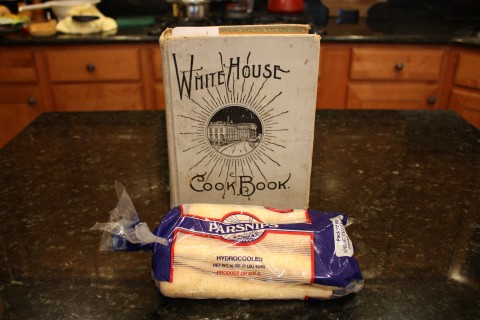 While flipping carefully through the brown and easily cracked pages I found several parsnip recipes. Parsnips are not a vegetable most of us know well, or eat often. They are related to carrots and have the same shape, but are white. Unlike carrots parsnips are not eaten raw often. Parsnips have a wonderful flavor similar to a turnip but milder and sweeter. Parsnips cook fairly quick and are versatile. You can add them to soups, roasts, mash them, sauté them, or stew them like in The White House Cookbook. Here is what the recipe from over a hundred years ago looks like:
Stewed Parsnips
After washing and scraping the parsnips slice them about half of an inch thick. Put them in a saucepan of just enough water to barely cook them; add a tablespoonful of butter, season with salt and pepper, the cover closely. Stew them until the water has cooked away, watching carefully and stirring often to prevent burning, until they are soft. When they are done they will be of a creamy light straw color and deliciously sweet, retaining all the goodness of the vegetable.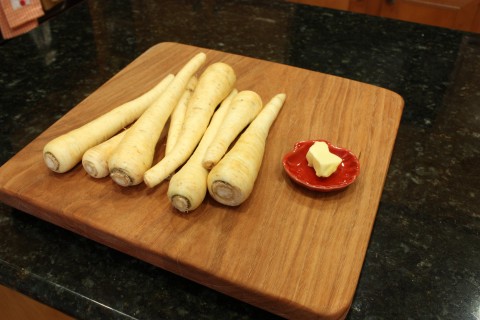 Curious about this recipe I proceeded to sort of follow it finding that if I would have cooked it until most of the liquid had evaporated I would have had very overcooked parsnips. It's tough to cook out that much water with a pot that is covered! I also opted out on scraping my lovely organic parsnips wanting the nutritious skin to be intact. I found that the pound of sliced parsnips took less than 15 minutes from cleaning to serving which is pretty quick. I started them in cool water to cover with a bit of salt, pepper, and half the butter with a pot tightly covered and within eight or nine minutes they were soft. I poured off the water, then added 1 teaspoon butter and one tablespoon of chopped fresh parsley for color. I was pleased with the result and think you will be too. If you want some more color try cooking with sliced carrots(equal in amount to parsnips) in the pot and cut the carrots smaller then the parsnips so they cook in about the same amount of time. Parsnips go very well with just about any chicken, or pork dish as a side.
Give it a try and let me know what you think of parsnips, and this recipe. As always feel free to share and comment.