Once upon a time there was chili and chili was good. Back then chili was always made with beef or pork for the meat component, and it was good. For many years all the people in the land ate of the usual beef and pork chili and all was well. Then one cold day came strangers to the world of chili and proclaimed that there are other meats that are good in it. These strange people put ground turkey in their chili much to the surprise of the beef and pork chili eaters. As if that wasn't enough strangeness they would also use bison instead of the age old method of beef and pork to make matters more unsettling. The "old school" beef and pork chili eaters were upset by this oddness and said, "woe is thee who eateth the turkey or bison chili" and they refused to eat it. This did not bother the "new school" turkey and bison chili eaters, and they blended in as best as they could in the world of the "old school" crowd.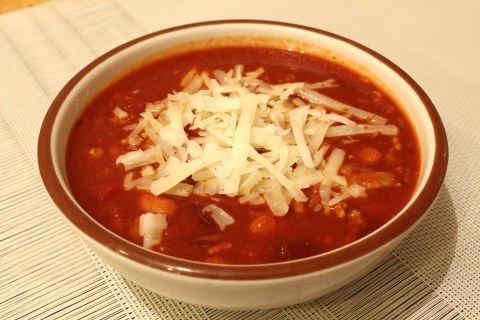 Many years passed and the "old school" chili eaters had children who grew up alongside the children of the "new school" chili folk and in time they became friendly towards each other. It was bound to happen that one day the child of an old school chili eater was visiting his friend who's parents were of the "new school". It was cold and nasty outside and the "old school" child was invited to stay for dinner. Lo and behold the family served nothing for dinner but turkey chili. The "old school" child  thought it was better to eat of the strange turkey chili than go hungry and upset his hosts so he bravely tried this new chili. What a surprise to his taste buds this milder flavored meat had! It was delicious in a most agreeable manner and he ate much of this warm and satisfying bowl of hot red goodness. He couldn't wait to go home and tell his parents about what was once thought of as sacrilege amongst chili eaters, was indeed quite tasty. He asked his hosts for the recipe to take to his parents so they too could sample this new chili. When he arrived home with chili smeared on his happy little face he told his parents of the wondrous chili at the "new school" chili eater's home. He presented them with the recipe and the parents tried it and liked it. Soon all the land was rejoicing in the bliss of two new chili recipes and all was well in the land.
Today I share with you that amazing turkey chili recipe that brought peace and harmony to the land of chili eaters. May it keep you warm and happy.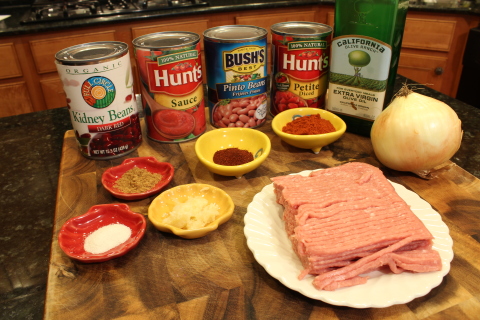 1/2 pound ground turkey
1 cup diced yellow onion
1 tablespoon minced garlic
1 tablespoon olive oil
1 15 oz can of diced tomatoes
1 15 oz can of tomato sauce
1 can of pinto beans
1 can of kidney beans
2 tablespoons paprika
1 teaspoon ground cumin
2 teaspoons chili powder
1/2 teaspoon salt
In a 6-8 quart pot add olive oil, onions and garlic, and cook on medium heat for 3 minutes stirring often.
Add garlic and continue cooking for 2 more minutes stirring often.
Add ground turkey, turn heat up to med-hi  and cook for 5 minutes stirring every 30 seconds until turkey is no longer pink.
Add rest of the ingredients, cover and bring to a simmer. Cook at a slow simmer for 20 minutes stirring every 5 minutes or so.
Chili is ready to eat after 20 minutes, but improves if cooked for 45 minutes, the last 25 minutes should be with the cover off. Like most chili recipes this one improves the next day.
Serves 4-6