When I was a child my somewhat eccentric parents invited foreign exchange students staying at Buckly Airforce Base east of Denver for Thanksgiving or Christmas dinner. Why they were staying there I don't know, but I remember going to the base to pick them up. Through this exchange I met someone from the Phillipines, and Nigeria. There were one or two others but I forget where they were from. The guy from the Phillipines showed my mom how to make adobo which we all liked very much, and instilled a love for the dish that has lasted a lifetime.  The meat of choice was doves as dove season was the previous month and we had many of the tasty birds in the freezer.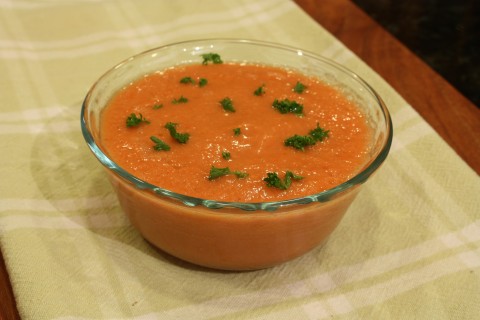 The guy from Nigeria was interesting because of his family. My mom casually asked at dinner, "what does your father do", and the answer was, "he is the ruler" which shocked my mother. It's not every day you have someone for dinner who's father is the king of a country so that gave my parents something to talk about for years to come. For me the guy was fun because he indulged me with some archery in our backyard as I had just received my first bow and arrow set for Christmas that day. Apparently I thought at that young age, I think I was eleven years old at the time, that men from Africa knew how to shoot an arrow. Pretty funny in retrospect as we were both rather bad at it.
Over the last twenty years my wife and I have had only one foreign  house guest and he was a chaperone from Japan assigned to a bunch of middle school aged kids visiting Denver. It was fun and I would have liked to do more hosting. In June of this year I saw a home made sign announcing "20 Spanish students need host families" and called after getting approval from my wife. We ended up with a great kid from Burgos, Spain who at the ripe old age of sixteen speaks very good English and is a great addition to our household.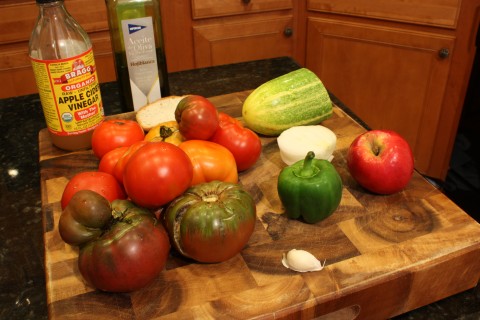 Turns out he is a natural cook. Even though his mother does almost all the cooking in his home I found out that he has significant talent in the kitchen. His first homework involving food was to prepare an American dish for a competition in class on Tuesday. I helped him select the dish to prepare and he made shepherds pie with virtually no help from me. Then that night he cooked us two traditional Spanish dishes for dinner. He made a Spanish tortilla and a gazpacho soup. For those of you who have never had a Spanish tortilla it's nothing like what we see in Mexican restaurants. A Spanish tortilla has potatoes, onion and eggs in it and looks like an omelet.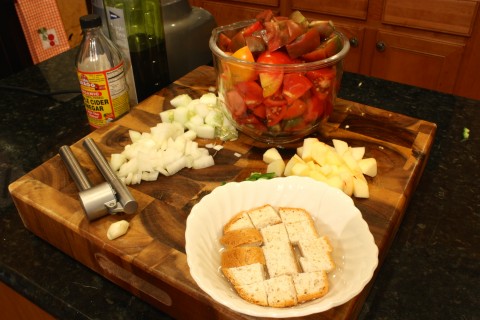 Both dishes Manuel made for us were excellent but I really liked the gazpacho, and since I have a lot of tomatoes getting ripe lately I wanted to make another batch the next day. Manuel didn't use a recipe but I took notes and tried to copy his gazpacho. The results were good but it took some more testing to come up with the recipe I share with you here. It's fast and simple as well as healthy. If you have an abundance of garden tomatoes like I do it's a great way to use them up. With these hot summer day upon us give this a try and see if you agree with me that this is one great Spanish cold soup.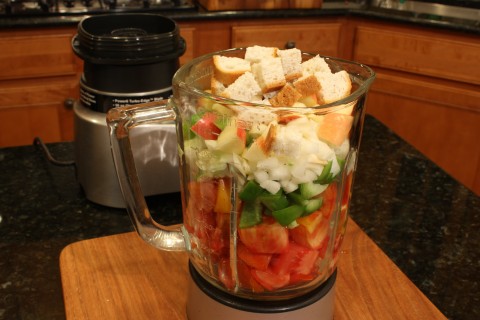 Gazpacho Soup with Heirloom Tomatoes
3 pounds heirloom tomatoes, cored and cut into quarters
1/2 yellow onion chopped, about 1/2 cup
1 cup peeled and diced cucumber with seeds removed
1 cup diced green bell pepper
1 medium sized apple peeled and diced
1 clove garlic minced
5 tablespoons olive oil
2-3 tablespoons good quality apple cider vinegar, I like Bragg's brand best
1 slice of bread cubed, about 1 cup
1 teaspoon salt
Soak bread in water for five or more minutes to soften. Drain water off before adding to the blender.
If using a blender instead of a food processor put tomatoes in first to facilitate faster blending. Then add rest of the ingredients.
If it won't all fit blend for thirty to sixty seconds and add rest of ingredients.
Blend thoroughly for two to three minutes, depending on the strength of your blender. There should not be anything larger than a sesame seed for best results.
Best if chilled for and hour or two, but can be eaten right away if needed.
Serves eight.
Note:
I tested this with both a blender and a food processor. The food processor I have held all the ingredients but was a bit slower to blend thoroughly. The blender did a good job blending but didn't hold all the ingredients at once and I had to add the rest after a minute of blending reduced the volume.