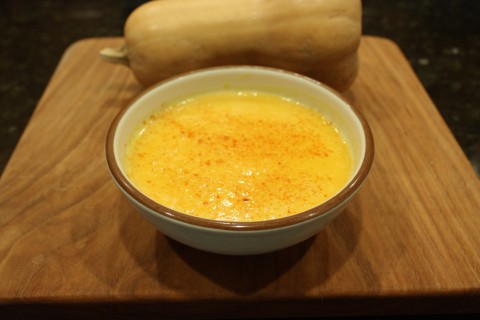 I love fall in North America! The weather is great and all sorts of seasonal veggies and fruits crowd farm stands across our nation. Butternut squash is abundant now and is getting almost as popular as kale.  Butternut squash is versatile as well as delicious. It's weird looking back on my life as a confirmed squash hater. That is until just about ten years ago. Part of that affliction was from not finding or trying many a tasty recipe for this wonderful food. There are so many recipes available for this funny looking squash variety. With butternut squash you can make a lovely salad with walnuts and kale, mash it like mashed potatoes, or make many great tasting soups with it.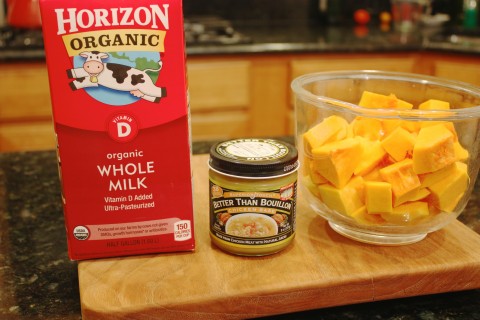 Peeling a butternut squash is not for just anyone. It's about as easy as giving a cat a bath and just as dangerous. Luckily most grocery stores sell peeled and cubed butternut squash. This no doubt will save many a home cook a visit to the emergency room. When you buy it already peeled and cubed you can make a soup like this one in minutes! You can also tweak it in many ways to suit your taste. You can add carrots, chili powder, garlic, turmeric, or your choice of herbs to make this personalized. You could also make it with the simple healthy ingredients listed here and have a great soup made from scratch.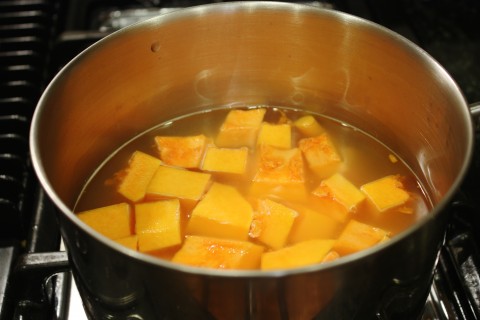 Give this fall soup a try soon and see if you agree with me that it's a keeper. To celebrate fall harvest I am giving a way to two lucky readers some of my heirloom Strawberry Popcorn. This yummy little corn was grown organically with no chemicals or sprays of any kind and produced over a hundred cute little red ears. I have already tested a batch on my stove and pronounce it yummy. To enter this giveaway leave a comment on what your favorite way to season popcorn is and good luck to all who enter.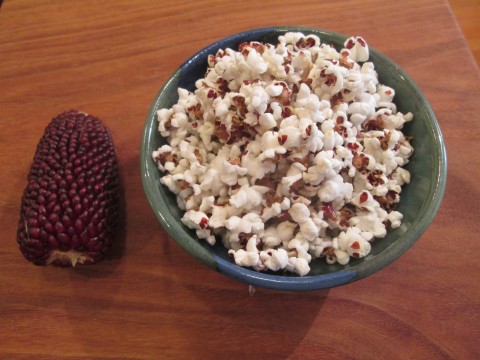 Simply Delicious Butternut Squash Soup
4 cups butternut squash cut into about one inch cubes, about 19 ounces
1 teaspoon better than bouillon chicken base, see note
1 cup milk, either coconut or cows milk
salt and pepper to taste
Cover squash with water in a 2 quart pot and bring to a boil.
Reduce heat and add chicken base.
Cook for ten minutes or until soft.
Drain off about one cup of the liquid and reserve it.
Add the milk and blend with either a table top blender or immersion blender until smooth.
Add some of the reserved cooking liquid if needed for a thinner soup.
Season with salt and pepper and serve with a sprinkle of sweet Hungarian paprika.
Serves four
Note:
If you want a vegan style soup use a vegetable bullion cube in place of the chicken base.
Curry powder( one teaspoon) is a nice spice blend to add to this soup for an exotic flavor.