The weather is beautiful and it's time to think Spring. Do you like those simple at home happy hour appetizers? I've got a spicy good one for you that is very easy to make and goes well with beer, sake or wine. Edamame is just soy beans in the pod and when cooked right can be great! If you like sushi and have gone to a Japanese restaurant you have probably seen edamame on the menu. Lucky for us it's easy to find it at most grocery stores in the U.S. and it's easy to prepare. This little green taste treat is good for you too. Here's the nutrition breakdown for plain edamame:
one cup serving has 8 grams total fat, 9 mg sodium, 676 mg potassium, 15 grams total carbs, 17 grams protein, vitamins C and B-6, minerals including iron, magnesium and calcium.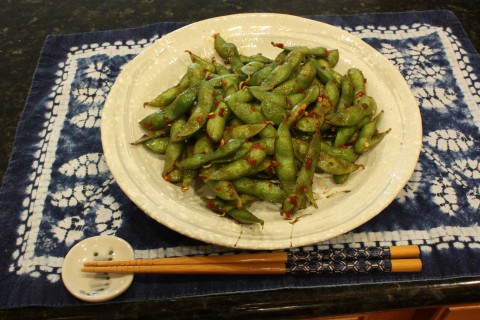 For years I have simply boiled edamame, drained it and sprinkled it with kosher salt, but for the love of all things spicy I came up with a bold and hot version that just takes a few minutes to make. Since you will want to be out on the deck in the sun using that nice outdoor furniture you bought why not decorate your table with this lovely duo of beans and beer for your outside happy hour? As always I welcome your comments and suggestions.
Chili-Garlic Edamame
10 ounces frozen in-the-pod edamame
4 cups water
1 teaspoon salt
1-2 tablespoons chili-garlic sauce
1 tablespoon oyster sauce, or soy sauce see note
1 tablespoon sesame seeds, optional
Cook frozen edamame in water per the directions on the package, and drain but don't cool.
In a sauté pan add chili-garlic sauce and oyster sauce and cook while stirring for one minute. Add edamame and cook stirring for two to three minutes then transfer to a serving dish. Top with sesame seeds if desired.
Serves four
Note:
If you don't have or can't easily find oyster sauce regular soy sauce will work, but it will be a bit thinner sauce that you toss the edamame in. It will also be less sweet since oyster sauce has a little bit of sugar in it.