Carrying on a salad themed stretch I made this Corn, Tomato, and Avocado Salad for a perfect summer starter. After all it has been hot here in Baltimore, and when it is hot and humid I like to spend as little time in the kitchen for dinner preparation as possible. Yesterday it hit 92° and with high humidity felt like 110°! There is no relief in sight with more of the same or hotter today and 
tomorrow
.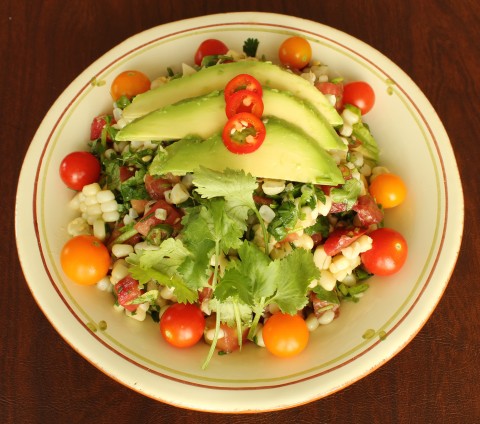 However, this seems to be fine with my tomato crop as long as I remember to water it. We have gotten away with a milder summer so far and I'm very thankful for that. For you lucky folks in Texas you know about heat, and have been getting your share this summer. With this kind of heat I try and do what some people call "planned overs", not leftovers. This method of food planning call for cooking some extra of whatever is called for the day before and using the next day to shorten prep time. In this case I cooked three extra ears of corn to use in this salad.
I had some surprise "volunteer" cilantro to use in this salad as well as plenty of my home grown tomatoes from my garden. I also picked a cayenne pepper for the heat component and bought the avocados from my local Costco. I was all set to put together one of my favorite types of salad, a spicy one with corn.
I was introduced to Kastania Greek olive oil, a high end extra virgin blend from the southern province of Laconia, at a tasting on Friday in Kennett Square, PA. I liked it right away but the more I use it the better it tastes to me. It has a smooth, almost buttery taste that is perfect for this salad.  Using local Maryland Silver Queen corn this sweet and spicy salad is delicious.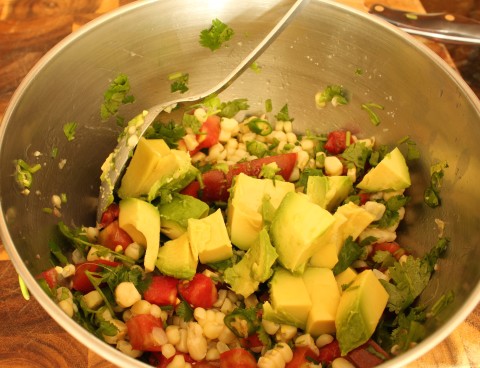 Next time you cook up a batch of corn-on-the-cob be sure to cook three extra and try this recipe out. I'm sure it will please even the most discriminating eaters. To make it a bit more special I'm giving away a bottle of Kastania extra virgin olive oil to one lucky reader. All you have to do is comment on this post to be entered. If you comment on my Facebook page you will get an extra entry. Just go to 
www.Facebook.com/FastAndFuriousCook
 and leave a comment. I hope you all like this one as much as I do.
Corn, Tomato, and Avocado Salad
3 cups cooked corn
1 cup diced tomato
1 cup chopped fresh cilantro, or parsley
1 firm avocado cut into bite sized pieces, see note
2-3 tablespoons chopped chives or onion
juice of one lime, about 1-2 tablespoons
2 tablespoons extra virgin olive oil
1 jalapeño minced, optional
salt to taste
In a 4 quart mixing bowl mix all ingredients except avocado.
Gently mix in avocado.
Add salt to taste and serve right away or chill for an hour or two.
Serves four to six.
Note:
If your avocado is too soft it breaks down a bit much but you can still use it if you stir it in very gently.