Summer is almost here and that means it is time to eat more salads. Last year I read a book on nutrition and dieting that pointed out it is widely agreed eating raw vegetables is a good step towards optimum health. That can be tough for many of us to do but I hope to make it a bit easier with this broccoli and cauliflower salad recipe. If you buy the broccoli and cauliflower already cut into florets and have a good Italian or Asian salad dressing in your fridge this won't take more than ten minutes to make.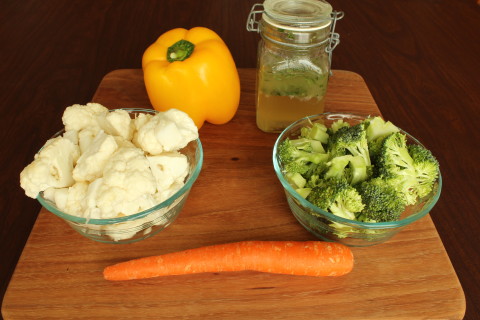 Broccoli is one of my favorite vegetables and I go through a pound per week at the least. In the summer I try to incorporate it in fresh salads more often. This time of year I'll serve this salad on top of my home-grown salad greens for extra garden goodness. My greens are almost done for the summer with the exception of kale which is just now getting mature enough to pick. I'd suggest putting this broccoli salad on top of mixed baby greens, kale or a lettuce and herb blend.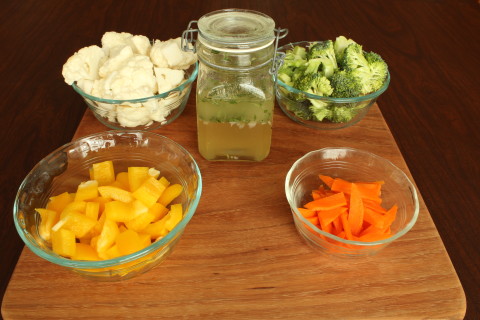 Next week I go to Alaska with my brother, sister and my wife for our annual fish gathering vacation. I know when we are up there it is almost impossible to get good fresh salad fixings, but we will make up for it by eating fresh caught salmon and halibut. I'll try and get in another blog post before I leave but if I don't then the next post will be about our Alaska trip. Until then, I wish good eating for you and good fishing for me.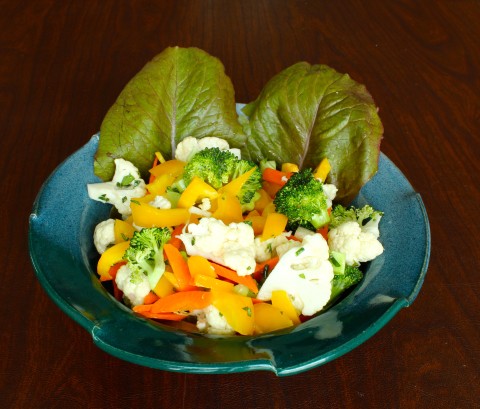 Broccoli and Cauliflower Salad
2 cups fresh cauliflower cut in bite size florets
2 cups fresh broccoli cut in bite size florets*
1 carrot peeled and sliced julienne stye diagonally into 1/4 inch slices
1 small red,yellow or green bell pepper diced
1/2 cup prepared Italian salad dressing
In a large bowl mix the vegetables then add dressing and mix all ingredients well and refrigerate for 20 minutes or more.
Can be served immediately, but will have a better flavor if allowed some extra time to chill.
If giving it more than 30 minutes chill time it helps to stir it one more time to distribute the dressing that gravitates to the bottom.
Serves four.
Note: I like a jalapeño or some other hot pepper to spice this up.
I usually add some of the broccoli stems, but chop them first.