Most people young and old love milkshakes! I am certainly no exception to that, but for years have stayed away from this frozen treat most of the time due to the unhealthy nature of ice cream, milk and sugar. What if you could cut out the ice cream and most of the sugar while still having a fantastic tasting shake? Well look no more because I give you the amazing no ice cream milkshake! Yes deep in the Fast and Furious test kitchen I have developed the oh-so-versatile no ice cream milk shake that will rock the foodie world! You would not know in a blind taste test that this contains no Ice cream!
This milkshake can be made with whole milk , 2% milk, almond milk, coconut milk, or combination of any of the above with excellent results. It can be made with frozen cherries, frozen strawberries, frozen peaches,
frozen raspberries or a combination of the above. It just takes three simple ingredients, a decent blender and a bit of creative experimenting to see which combination you like best.
If you don't drink alcohol, or are fixing it for children just use vanilla extract, orange extract or similar flavorings. If you do drink alcohol try it with different liquors like:
Frangelico, a hazelnut liquor that would work well with peaches.
Apricot brandy would go well with peaches, or a mix of peaches and strawberries.
Bailey's Irish Cream, would go well with just about any frozen fruit combination.
Chambord, a raspberry cordial would enhance a raspberry milkshake.
Lemoncello might be nice with a strawberry, or peach shake if you love lemon.
Depending on your blender this will take 1-5 minutes to blend properly. You may have to stop the blender, and stir with a spoon once or twice, and may need to add more milk or booze to get the consistency you desire. There will be variables in the ratios you use but the basic recipe is this: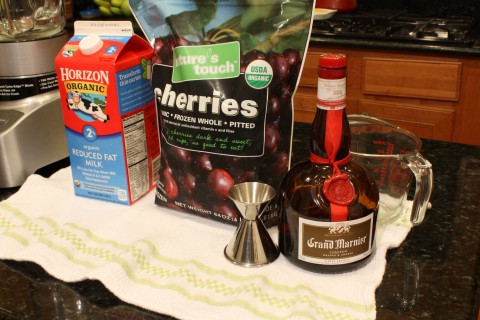 2 1/2 cups frozen fruit, see note
1 cup of milk, 2%, whole, almond or coconut
1 ounce of booze, liquor, cordial
substitute booze with 1 tablespoon vanilla extract or appropriate flavoring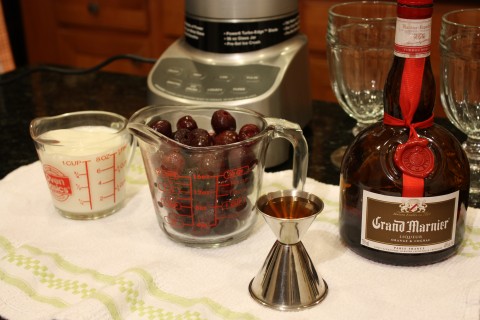 Add all ingredients to the blender and blend to desired consistency.
Makes 2-4 servings.
Note:
I have used cherries with Grand Marnier for this recipe, but have also used a combo of raspberries, strawberries, and blueberries with Grand Marnier that tasted great!
If you are not driving after consuming this you might even want to kick up the level of the booze a bit:)