Since June 18th 2011 my wife and I have participated in a supper club where we get together at a members home for a bi-monthly celebration of food and wine. We have four couples in the group from diverse backgrounds and professions. I look forward to these foodie fests with great eagerness as I love to share my cooking with those who love good food and wine. Being from Colorado and the fact that I work out of the home my social world is limited here in Baltimore giving me a greater appreciation of our club.
Back in Colorado we tried to start a similar supper club and had an amazing first dinner at a friend's home. I made seared foie gras with a side of blackberry sauce, and one member brought the wine and special glasses for each type. It was great fun with interesting people, but no one could seem to make time in their busy schedules to continue on. From that first failed event I realize how special our group is to hold on for almost four years now. Several of us work well over fifty hours per week and three of us travel extensively yet still find a spot in our calendars for one 
Saturday
 every two months. There have been times when we went four months before we could get everyone onboard for a free 
Saturday
, but that's okay as long as we can all be together.
The themes are the responsibility of the host and have ranged from our first meeting's farmer's market, then Western Mediterranean, Julia Child, to southern inspired themes. Last Saturday was American comfort food featuring mini mac and cheese, candied bacon and cheese whiz on Ritz crackers for appetizers. The main course featured a grass fed beef meatloaf, mashed potatoes, green beans with onion and bacon, pan fried chicken, biscuits and gravy. Dessert was a Myer Lemon cheesecake with a buttery nut crust. It was all very good but what makes it is most worthwhile is sharing in each other's company.
We learn about new and special restaurants near and far from our supper club members like Little Sero in Washington DC for exceptional Thai food. One of our members that travels the US often told us about a great Spanish restaurant in Chicago called Mercat la Planxa where we had excellent tapas and wine. New recipes are learned from each gathering, like last night's meatloaf contained different veggies that I never would have thought of putting in a meatloaf.
Sometimes when it seems like too long in between supper club meetings we get together to try a new restaurant. It's always best to dine with four or more when trying out a new restaurant to get a better sampling of dishes, especially when we order appetizers that are made for sharing. With one couple living south of Baltimore, two living in the city and us living north of Baltimore we cover a lot of ground. We share our favorite grocery stores, farmers markets and specialty shops and sometimes share in bulk buying.
There are many reasons to start a supper club and perhaps yours will be different than ours, but if you start one my hope is that it continues to give you a joyful excuse for blocking out one night every month or two to share the best thing in life and that is time spent with people you enjoy to be with over food and wine. In my ongoing effort to share new and different recipes with you, here is an unusual mushroom soup. Most mushroom soup recipes are high in calories and fat. This one is virtually non-fat and tastes great. It is based on similar soups I have had during my travels in Japan, but uses easy to find ingredients. It also cooks in less than ten minutes and takes less than ten minutes to prepare. Give it a try and please share with foodies you think would enjoy it. As always I welcome your comments and suggestions.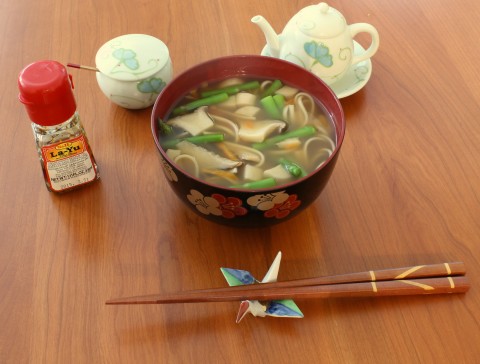 Royal Trumpet Noodle Soup
1 quart chicken or vegetable stock
1 cup water
1/2 pound royal trumpet mushrooms, see note
1/2 pound fresh asparagus spears
1 carrot shredded, about one cup
1/4 pound Asian noodles, white or soba style
1-2 tablespoons soy sauce
Trim ends off of royal trumpets then cut stem off about one half inch from bottom of cap.
Chop stems and set aside.
Peel and shred carrot and set aside.
Clean and trim tough part from asparagus, cut into two inch lengths and set aside.
In a two quart pot add stock, water and one tablespoon soy sauce. Add mushroom stems and cook over high heat until it boils.
Add noodles stirring often for the first two minutes.
After about five minutes or when noodles are almost done add asparagus and carrots. Cook for two minutes on high.
Taste and add second tablespoon of soy sauce if needed.
Serves four.
Notes:
Add chopped green onions with asparagus for more color and flavor.
Shitake and/or white mushrooms can be used if royal trumpets aren't available.
A tablespoon of miso goes well with this soup if added with the stock and water in the beginning.