I am but the conduit from which many chefs and cooks speak through me in the language of great food. Yes it was great learning old school cooking from my mom, grandmother and aunt, but I really put together my cooking skills when I worked at over thirty restaurants. I am so fortunate to have some natural ability with food, and cooking but the most important aspect of my culinary journey is my passion for learning more about cooking great food. Without all the great cooks and chefs that have taught me over the years you would not benefit much from my writing as I could not have done this on my own. Unless that is all you wanted to read about was scrambled eggs, and hamburger recipes. That is not to say I was a pushover when working as a young cook! I was a young lad of 27 when I worked at the famous Brown Palace in Denver. It was there that I told the sous chef I thought the head chef's mornay sauce sucked. He jokingly asked me if I'd tell that to the head chef to which I replied "of course". Mind you this was a kitchen where to get to sous chef status you had to be working there for about 25 years back then in 1982, and the chef had been there for over 40 years.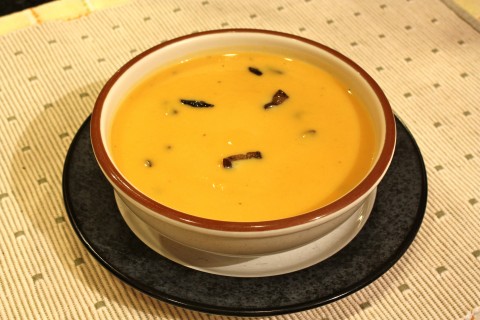 I continued to move around the restaurant world and ended up working at the Trans Alpen a restaurant no longer in business where I cooked with a couple of young chefs from the CIA(Culinary Institute of America). One of them went to the New York State school, and the other went to the Napa, California school. These two chefs were constantly in a friendly competition to see who was better. I learned so much from these fun yound chefs while working there. Lessons like every main course needed a sauce of some type to bring life to the plate and palate. The visual as well as the taste factor must be considered before devising our specials for the night. I still remember well some of the dishes we cooked there.
For learning soups my best teacher was the US Coast Guard where I was required to make a soup from scratch every day for over two years. When you live with a crew of 30 guys day in, and day out you don't give them the same soup too often. I learned that soups should change with the seasons, and I cooked up hearty soups and stews for the cold winter months, and lighter soups for summer. After more than two years of this soup journey I felt like I could make soup in my sleep! Along the way I became enamored with soup and it's ability to make people happy on a cold day. With this very chilly winter we are having I have developed more new soups than ever to add to my original recipes database. This sweet potato soup is already one of my favorites this winter. It's fast, simple and healthy as well as delish! I hope you give it a try and please leave comments on how it turned out.
2 tablespoons olive oil oil, or garlic infuse olive oil
1/2 cup minced onions
1 cup chopped celery
1-2 4 inch Portabella mushroom caps with the stem removed
2 pounds sweet potatoes peeled and cut into 1 inch cubes
2 1/2-3 cups water
1 1/2- 2 cups milk, or coconut milk for Vegan
1/4 teaspoon thyme
3/4 teaspoon salt
1/4 teaspoon ground white pepper
optional, omit salt and use 1 1/2 teaspoons Better Than Bullion chicken base
Sautee onions in a 3 1/2 or 4 quart cast iron pot on medium low heat for 5-7 minutes in 1 tablespoon of the oil then add celery and cook for 5-7 more minutes stirring often.
While onions and celery are cooking using a checkerboard like pattern lay the mushroom cap gil side down on a cutting board and cut the Portabella mushroom into 1/4 inch pieces. They will be about an inch long, but that's ok.
Sautee mushroom pieces in a saute pan with a bit of salt (1/4 teaspoon), white pepper (a dash), 1 tablespoon oil, and thyme if using. Stir mushrooms every 2-3 minutes and cook until well done, and a little crispy. This takes about 12-15 minutes.
When celery and onions are soft add sweet potatoes, 1/2 teaspoon salt, 1/4 teaspoon white pepper and water. Increase heat to medium high and when it comes to a boil, lower heat, cover and cook at a simmer until sweet potatoes are soft(about 15 minutes).
When potatoes are soft turn heat off and add milk. Use the full 2 cups if you want a thinner soup. Blend with an immersion blender or tabletop blender until nicely pureed.
Stir in Portabellas and taste to see if it needs more salt, or pepper. If it's too thick just thin it out with some more water or milk.
Serves four.
Note: 1/2 cup chopped carrots added with the sweet potatoes are a nice addition.
Grocery list
2 pounds sweet potatoes
fresh celery
yellow onion
1-2 portabella mushroom caps
milk, either cow's milk or coconut
Optional, Better Than Bullion chicken base