Thanksgiving
Of all the holidays Thanksgiving is my favorite. It not the only holiday that brings people together in a happy food filled day. Christmas and Fourth of July do that pretty well. Thanksgiving is about gratitude, not just food. It is a very healthy thing to celebrate gratitude all year long, not just one day a year. Sometimes Thanksgiving Day is there to help us realize that.
I have many things to be grateful for and I bet you do too. I have excellent health, a wonderful wife, amazing siblings, my father is still alive after ninety-one years of circling the sun, my dog Tucker entertains and protects us, our cat Boots is a champion purring machine, we live in a nice house, and I have the best friends a guy could ever want. There was a time I didn't think much about gratitude, and I'm glad that is in my past. Since surviving two near death events in 1986, and remember traveling down the white kaleidoscope tunnel of no return that obviously I did return from I've been changed by that. Little things that used to set me off in anger aren't triggers anymore. Smiles from a friend or stranger are more special now. A good walk in nature with friends or family can be priceless.
I am especially grateful for my ability to cook and share good food with friends and family. From the cooking classes and demos in Kennett Square to visiting Colorado I cook where ever I go whenever I can to share the love. At the table the outside world disappears and life slows. This special time allows us all to focus on the food and the pleasure being with each other. Thanksgiving is a time when we take that to a higher level. A super bowl of good eating is what it seems. We cook up the traditional foods and sometimes go with creative new ways to cook our turkey, potatoes, green beans, squash, cranberry sauce and pumpkin pie. If we are lucky we are given another shot at out doing ourselves again next year. This year when you are having your feast with friends and family try taking that gratitude into everyday of your life. It shouldn't take a near death experience like I had to own that level of gratitude!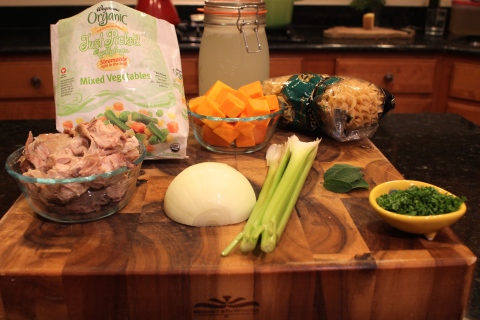 I'd like to share a recipe for turkey and butternut squash soup that you can make with  the yummy turkey stock made from Thanksgiving leftovers. With  turkey stock you can make a lovely seasonal soup in minutes for this cold weather that has come down from up north. Please feel free to share this with friends and family, or on social media of your choice.
Turkey and Butternut Squash Soup
1/2 pound diced turkey meat, about two cups
1/2 gallon turkey stock, see note
2 cups butternut  squash cut into bite sized pieces
1/4 cup onion minced
3 ribs of celery sliced thin
12 oz package of frozen mixed vegetables,corn, green beans, carrots and peas
2 cups pasta, bow tie or shell pasta will do
2 tablespoons fresh minced parsley, optional
1/4 to 1/2 teaspoon ground white pepper
1 tablespoon fresh sage minced, or 1 teaspoon dried sage
Sauté onions and celery in one quarter inch of the stock on medium high heat in a 4-5 quart soup pot. Cook for 5-7 minutes stirring often.
Add rest of stock and cook on high for 5 minutes.
Add butternut squash and bring to a boil.
When it comes to a boil add turkey and mixed vegetables.
Bring to a boil again and add pasta cooking on high heat and stirring often during the next two minutes to keep pasta from sticking together.
Cook until pasta is tender then add parsley and sage, cooking at a simmer for 2 more minutes.
Serves 4-6
Note:
If you don't have turkey stock you can use chicken stock.
Even when I have turkey stock I put a little bit of Better Than Bouillon chicken base in it.