In late March, I attended the International Association of Culinary Professionals (IACP) meeting in Washington DC. While the theme was "Happy Birthday" to founding member Chef Jaques Pepin, the DC host team assembled a great list of local sponsors, tours, and three days of panels, seminars and workshops. Attendees went home with bags and minds full of goodies, information, and ideas.
The National Geographic presentation, derived from the National Geographic's Food 2014 issue, gave me much food for thought. The image that sticks in my mind is an illustration of the amount of food an American family of four wastes each year. The piles of veggies behind the family and the meats in front forming a parade of waste is truly shocking, and disturbing. The article states that on average a typical American family of four tosses out 1,160 pounds of vegetables, dairy products, and meats in just a year!
This has to stop.
Modern American refrigerators are large, and some of the food we buy gets lost and goes bad by the time we rediscover it deep in the bins and shelves. A quick twice a week survey of every bin and shelf in our fridges could cut out plenty of waste. Making a grocery list and sticking to it helps cut out overbuying, and waste as well.
Using leftovers efficiently and creatively helps eliminate waste. A common restaurant term is "cream of walk-in soup" – a soup made from scavenging the walk-in cooler for vegetables and other foods that need to be used before they go bad.
A website like recipekey.com can help the home cook use what they have on hand. You enter what you have and the site shows recipes using those ingredients by percentage. With tools like these you can use instead of lose foods to spoilage in your fridge and pantry.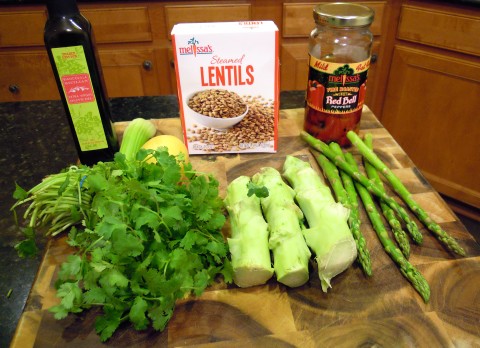 As an example, the other day I had a few spears of asparagus, a nice bit of fresh cilantro, lemons, broccoli stems, celery, and some Melissa's fire roasted red bell peppers in my fridge. There were some lentils in the pantry from Melissa's Produce, so I decided a lentil vegetable salad was in the works. After a bit of chopping and mixing I had a great looking healthful salad for lunch. Without the lemon, and adding vegetable stock it could have been made as a soup. As for the amount of each ingredient you can vary the amount of broccoli, asparagus, bell pepper and celery significantly and still come up with a great tasting salad. This is a use-your-leftovers type of salad so feel free to experiment, and substitute ingredients as needed.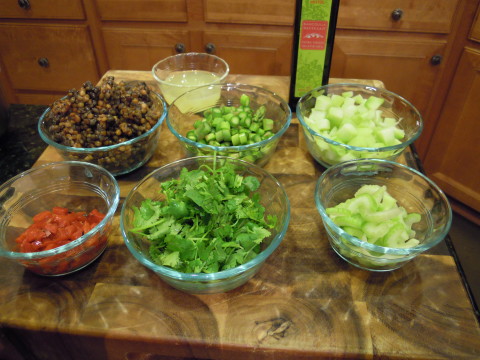 Lentil Asparagus Salad
1 1/2 to 2 Cups cooked lentils*
2-4 broccoli stems, peeled and sliced in 1/4 inch pieces
1 Cup chopped fresh cilantro*
1-2 stalks of celery, about ½ cup sliced thin
1/2 to 1 Cup chopped fresh red bell pepper, or fire roasted
½ pound fresh asparagus, cut into 1 inch lengths
1/4 Cup fresh squeezed lemon juice
3 Tablespoons olive oil
2 Tablespoons chopped green onions, optional
1 jalapeño chopped, optional
salt to taste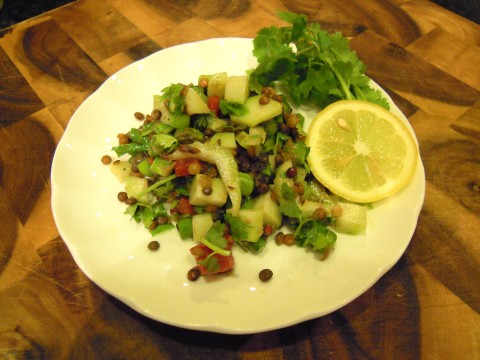 In a large mixing bowl, combine all ingredients except lemon and oil.
In a small bowl whisk oil and lemon juice together for ten-seconds or so, and pour over the salad.
Mix salad with spoon or toss with hands to incorporate the dressing. Ready to serve right away or refrigerate for 2-8 hours.
Serves 4 to 6.
*Red beans may be substituted for lentils
*Parsley may be substituted for cilantro.