In celebration of asparagus season I decided to develop an asparagus rice pilaf recipe for you asparagus lovers out there. I have been eating asparagus almost every day for over two weeks and still am not tired of it. I usually only buy locally grown so I expect the season around here is going to be over in about two weeks and I'll be done with fresh asparagus until next year. I admit to buying the South American asparagus occasionally when I just have to have it, but I never said I was 100% locavore!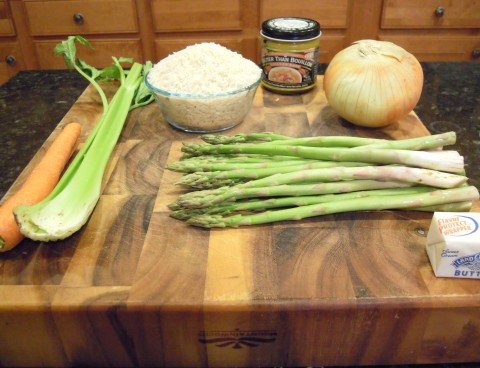 Asparagus is so versatile you can put it in salads in its raw, grilled, or blanched form. To grill asparagus on over charcoal with a bit of olive oil, herbs and spices is true summer bliss. It goes great with Asian foods like a chicken and asparagus stir fry or even a hot sour soup with asparagus. In soups it really shines whether hot or cold.  I love the recipe I developed two years ago for a chilled asparagus soup using almond milk. You can find it here:http://www.fastandfuriouscook.com/category/soups/page/2/ The problem with most hot asparagus soups when dining out it the amount of heavy cream restaurants like to use.
What I had in mind was a rice dish using asparagus that would pair well with fresh Alaska salmon that is just showing up in local grocery stores and Costco. I served a nice salmon burger, and a side of stir fried bokchoy and Thai basil with the asparagus rice pilaf last night with great results. This rice dish would go well with grilled chicken, pork chops or shrimp. It's fast, easy and healthy like almost every recipe I develop and hope you will give it a try and leave a comment on how it turned out. And by all means pair it with a hunk of grilled Alaska salmon and a chilled Pinot Gris, or Pinot Noir for a winning combination.
Asparagus Rice Pilaf
2 cups Uncle Ben's Converted rice, or other similar rice
4 cups water
1 1/2- 2 cups asparagus*
1/2 cup minced yellow or white onion
1/2 cup fresh celery chopped
1/3 cup diced fresh carrots
1 tablespoon Better than Bouillon chicken base
1 tablespoon butter or olive oil
1/2 t turmeric, optional
1/4 teaspoon ground white pepper, optional
In a 2 1/2 quart pot on high heat bring water, onion, celery, butter and chicken base to a boil.
Add carrots and rice and return to a boil.
Reduce heat to maintain a simmer and cook covered for 8 minutes.
Add asparagus and stir in well.
Lower heat a bit and cook 5 to 10 more minutes or until most water is absorbed.
Let sit for 5 minutes covered or serve right a way.
Serves 4-6
Note
*About a half pound of asparagus yields 1 1/2 cups of one inch pieces after trimming away the tough 2-3 inches from the bottom of the stalks.