Spelt Spaghetti with Butternut Squash and Pesto
Here we are a week after Thanksgiving and I am hard at work in the kitchen dreaming up lighter, healthier meals for in between holiday extravagances. I've been testing several ways to use spelt pasta, and spelt flour since Nature's Legacy sent me a box of their products to try out. Thus far I am very happy with their spelt products and the recipe development using spelt in my kitchen.
Today I cooked up a dish that came to me last night wondering what would be the best type of dish for this time of year. I wanted something hot and satisfying, but vegetarian.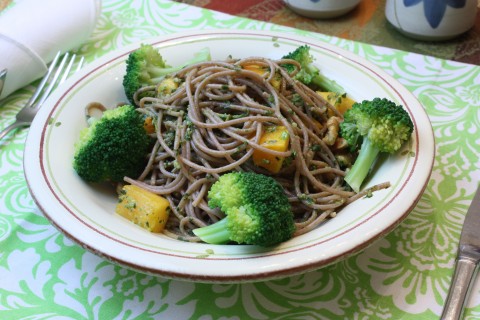 This dish came out great in testing today and I am happy to share it with you in the hopes that you will give spelt a try.
Why, you might ask should you give spelt a try? Well, for one reason it taste great. For another reason it's all natural, and not-been-messed-with like its cousin wheat has been. Spelt is non-GMO, high in fiber and vitamins too. More and more people are searching out simple natural foods to add to their diet and spelt is gaining in popularity.
So try one or more of my spelt recipes, and see what you think. To help you try out spelt Nature's Legacy is giving one of my lucky readers a box of spelt products.
Just leave a comment on this post what your favorite pasta dish is and you will be entered in this drawing. I'll draw the winner soon and let you know who the lucky person is on my Facebook fan page. Due to shipping costs the winner must take delivery in the US.
Included in the box is:
1 5 lb bag 100% whole grain spelt flour
4 boxes whole spelt rotini
4 boxes whole spelt spaghetti
2 boxes whole spelt lasagna
Spelt Spaghetti with Butternut Squash and Pesto
1 ten ounce package of Nature's Legacy spelt spaghetti
4 quarts water
1 tablespoon salt
1/2 cup pesto
2 1/2 cups butternut squash cut into 1 inch cubes
1 tablespoon olive oil
1 tablespoon fresh minced parsley
1 cup roasted walnuts(optional)
salt and pepper to taste
Heat water in a 5 quart pot with a tablespoon of salt.
Preheat oven to 350 degrees.
Toss butternut squash, salt and pepper with olive oil in a bowl and mix to coat. Bake in a 350 degree oven for 20-25 minutes.
Cook spelt spaghetti according to instructions on package fifteen minutes after the squash goes in the oven, see note*
Drain and rinse spaghetti and put in a large bowl.
Add pesto, walnuts and parsley and toss well.
By now your squash should be tender but not mushy. Put hot squash in with spaghetti and mix well.
Serve with a garnish of steamed broccoli, and freshly grated parmesan cheese.
Serves 4-6
Note*
The package says it takes 4-6 minutes to cook the spaghetti in boiling water, but I had to cook it about 8 minutes and it wasn't overcooked.
I made a basic pesto from a recipe on the Food Network's website that turned out very well, and only took ten minutes. You can buy or make your own pesto for this dish. Here's the link for the recipe I used:
http://www.foodnetwork.com/recipes/basic-pesto-recipe/index.html
Even though I was gifted a box of products from Nature's Legacy it didn't influence my opinion.