East Meets West
I love salmon rice bowls! On my most recent trip to Japan I paid extra attention to the food. From the restaurants, cafes, street foods, and even on the ANA Airline flight home I took mental notes of Japanese cuisine at its best. Japanese food is significantly healthier than American food overall. On the flight back from Tokyo to Chicago at lunch I noticed the calorie difference in our two choices of entree. The American style lunch featured braised beef with sides, and the Japanese style lunch featured grilled fish on rice with sides. The American lunch came in at about 1,250 calories while the Japanese lunch came in around 670.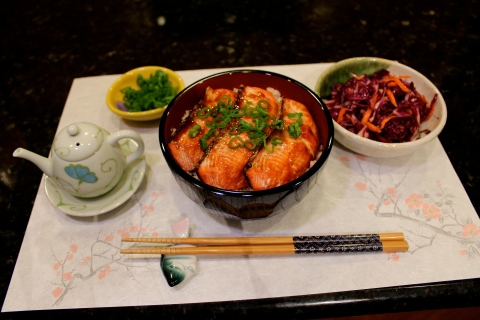 I've been to Japan many times and have seen few fat people. They do have more incidences of stomach cancer, but overall their health is better than Americans. They eat less meat and fat than we do and get more exercise. I decided I would come up with some Japanese American fusion type recipes to share with those of you looking to eat lighter, or those who would like to explore Japanese foods.
In my first two or three trips to Japan I had a hard time eating the breakfast that typical locals ate. We usually stayed at hotels, hot springs resorts, and with my wife's family there. The typical breakfast offered steamed rice, grilled or baked fish, steamed dumplings, shredded cabbage, several types of Japanese pickles, undercooked eggs(yuk!), miso soup, some sort of bread, and fruit.
I started taking granola on trips to Japan so I knew I'd have something I could eat for breakfast. On this trip something strange happened. We ate at restaurants or hotel buffets and I found I liked quite a few of the foods on the breakfast buffets unlike previous trips. Especially the fish and rice with strange vegetable side dishes. Remember the song "I think I'm turning Japanese"? I wondered after eating and liking so many of the dishes I usually wouldn't have eaten at breakfast if I was. After eating fish on rice at three different places I decided to conjure up my own fish and rice bowl to share with you, my dear readers. This would be a lunch bowl, not breakfast. I've been cooking Asian dishes for over forty years. Some authentic, some blended East meets West style. Today I share with you my love of salmon, and brown rice. This simple, and very healthy dish takes no more than ten minutes to make, and uses ingredients that are easily found. If you have a rice maker get your rice cooking an hour or more before lunch time as this is one fast dish, but rice is not. Unless you do the microwave rice thing. Does anyone really buy that crap?
With the holidays upon us why not try this healthy salmon rice bowl before the new year resolution period? This salmon bowl is good hot or cold. If you have access to a good Asian grocery store, you can buy Bonito flakes, and rice sprinkles to enhance the flavor of the rice. If you can find unagi sauce(eel sauce) all the better. I tested it with Kikkoman BBQ Sauce brushed on, which worked well. I was  figuring it is easy to find, but have used unagi sauce for years on salmon with better results. If you have the time you can even marinate the salmon in my recipe:http://www.fastandfuriouscook.com/teryaki-salmon-skewers-on-brown-rice/, for about forty-five minutes. This rice bowl goes well with a side of Asian style salad, or green salad with Asian sesame dressing. So here's to eating better and healthier before and after the New Year.
Salmon Rice Bowl
1 pound salmon filet, preferably Alaska salmon
1/4 cup thin sliced green onion rings, the green part
1/4 cup unagi sauce or Kikkoman BBQ sauce
Preheat oven to 350
Sliced the salmon horizontally at an angle in 1/2 inch pieces
Rub with oil, or use a spray oil to prevent sticking
Place on rack near the top of oven and change heat to broil.
Cook for three minutes then remove from oven to brush topside with sauce.
Broil two to three more minutes.
Remove from oven and brush both sides.
Arrange salmon on top of rice and sprinkle with green onions.
I like to have soy sauce at the table ready to add as needed.
Serves four.
Note:
There are several type of rice toppings available in most grocery store Asian sections. I like several of them including bonito flakes, seaweed and sesame seed combinations, and Nori Komi Furikake.
Serve with an Asian salad like my Asian Broccoli and Bell Pepper Salad:
http://www.fastandfuriouscook.com/asian-broccoli-salad/